Intro
Do not feel like you need to pay for a mask, or go without one.
I'm making masks of the design from Ragmask, which I recommend as being the best in terms of bang for the buck in every aspect:
Ease of construction
Tight fit to the face, especially around the nose
Proven level of efficacious filtering (see here for research - cotton seems to be best)
You can make it with materials you probably have in your house right now
I have a mirror of their PDF instructions here should their website become unavailable.
Need Masks?
I have masks and they're yours for free! Contact me at john@johnstewart.com and I will get you some.
Let me know:
How many do you need? One per person, please.
Would you prefer the types with fabric ties, or elastic? Elastic is in short supply, so if you would prefer fabric, or don't mind, that's ideal.
Can you pick up on the near west side of Madison? If so, I'll send my address and leave them out.
Do you need them dropped off? If so, send your addresss.
Fitting Mask
There are two loops, either elastic or fabric ties. One should go around your neck, pulling the corners over your chin. The other should go around your head. Bend the nose wire to get a tight fit against your face. If you have elastic that is too loose, simply tie a knot to tighten it.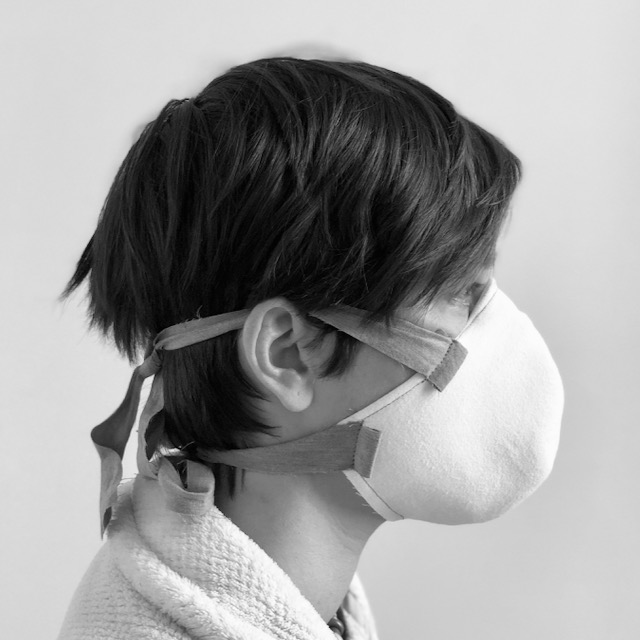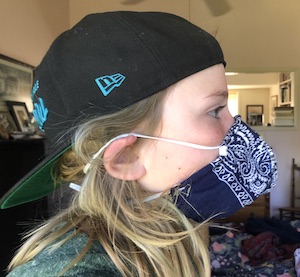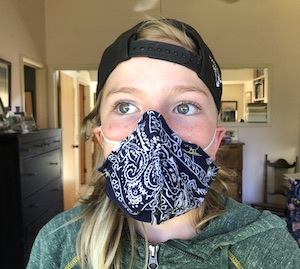 Have Materials?
I am making masks and need your materials! Please contact me at john@johnstewart.com if you have the below materials to share.
Please pre-cut these materials if you are going to donate; I need the following in equal amounts:
I need, for each mask:
1x 5"x10" 100% cotton T-shirt material (this is the filter in the middle)
1x 11"x11" 100% cotton not-too-thick cloth (this is the outside material)
2x 1"x24" strips of any fabric (this is for the ties - as of 4/18/20 I am out of elastic)
Update 4/18/20: I am out of elastic.
Fabric Details
Please 100% cotton T-shirt material, and the not-too-thick cloth is ideally some sort of looser knit linen type fabric, like a bandana. Cotton is proven safe and efficacious. We don't know on the non-natural materials.
I am out of my donated elastic. T-shirt strips are easy to make: cut an inch or so of T-shirt, pull and it should rip cleanly into a strip.
Make Your Own
I am happy to help anyone who has a sewing machine learn how to make these, and can do a Zoom session with you to go over the process and answer any questions.
The only weird ingredient you might not have at home is 14 gauge wire. Ask any person who has ever done electrical work and they have some of this kicking around in their basement or garage. It might be referred to as "ROMEX" and it is the most common household wiring. You just open the outer insulation and then cut up the inside wire into 4" pieces.
Cut out the template on the first page (I made a version on cardboard for ease of tracing).
Follow their directions, but my summary is:

Put the 5x10 piece inside the 11x11 piece, sew 3 sides. Initially just do this, but once you get the hang of it, you can sew in the elastic or other ties in this step as well.
Fold over, trace using template.
Sew curve of template. Cut excess.
Sew in elastic or ties if you didn't do it in the previous step.
Insert 4" wire into the seam to the middle, bend. Target shape to bend to is on the template.
Turn inside out.
I have been using 1⁄4" elastic in 10" and 13" lengths. The shorter one goes in the corners as you sew, and will be the bottom strap once done. The longer one goes towards the middle of the seam (see the PDF for info on where; I made a simple template to mark) and will be the upper strap.
If you don't have elastic, then bias tape or T-shirt materal cut in 1" strips works as a fallback.
See the photos above for how it looks when completed.
Here is a video showing the whole process from beginning to end:
How to do it in less than a minute:
Real time version of making one, beginning to end:
Other Local Resources
Dane County Mask Makers is a group organizing mask makers in the area.