Blog
---
Posted on October 10th, 2013 by John Stewart

My latest iOS app was just approved and is now available in the app store.
The gist of it is that your iPhone can point your way back to a particular spot on our planet.
It's pretty amazing the technology we carry in our pockets every day. Even for an IT geek and technophile since I was a kid, who is inured to the relentless march of miniaturization and power, it amazes me.
Your phone, if outside and given a few seconds to lock GPS, can tell you your exact location on the planet within (as of this post) about five meters. Sixteen feet. So, inspired somewhat by this, I started by noodling around with the Apple API to access location data on the phone, and this app popped out.
I think it's pretty cool. I used some iOS7-only API, such as SpriteKit. I tried to embrace the iOS7 design aesthetic. The exception is the rather anachronistic pointing hand… which, it turns out, actually has a name, I learned this past week. A manicule. I had no idea.
Anyway, there it is. DudeWhere?
I hope you find it useful.
---
Posted on September 10th, 2013 by John Stewart
"When I first saw the president speak in 2008…

… in a youtube clip posted to my Facebook page, I knew that he was going to be right all the time. So I support World War III. And IV. And any Moon War the president may want to start."
The entire mainstream media seems to be of the mind that the United States is, and should be, the world police. Furthermore, they seem to be of the mind that if we don't retaliate, we are going to lose our status as such. Why is being the world's police force considered an admirable place for our country?
Yes, it's awful that Assad is gassing his own people. How are some cruise missiles going to help? What is the plausible scenario in which bombing actually improves the situation for anyone?
It's not like in Kosovo, where the UN (note that, UN, not US) bombings actually were to try and stop an ongoing genocide. In this case, the genocide has already occurred. And we explicitly can't target the actual problem, the chemical weapons themselves, due to the risk of releasing them to cause more death. So all this would be is retaliation, punishment.
No, we should not be the world police, or judge, or jury, or executioner.
Syria's a terrible mess. Bombs won't help.
---
Posted on August 14th, 2013 by John Stewart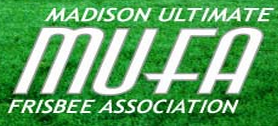 I've captained a team, DiscGrace, in the MUFA summer league, since 2001.
The summer league is an ultimate frisbee league where you sign up as a team based on your team strength, ranging from competitive down to recreational (with many divisions thereof).
One of the historical problems with the league has been the fact that even within a given division, skill levels can vary a lot, since the team strength is all based on self-rating. This often results in blowouts… and blowouts are something you rarely have fun playing in, no matter which side of it you're on.
As of the 2012 season, MUFA combined the B and C rec leagues and implemented a swiss system*. In 2012, there were 54 teams the swiss division, and this year, there were 72. The idea of a swiss system is that you pair up teams with similar records, so as the schedule progresses, teams are paired against others of a similar strength.
In 2012, the season was severely truncated by a drought; the city closed fields for a large part of the season to prevent damage to the turf. Because of that, it was hard to get a good idea of how well the swiss system worked.
This year, however, just finished up, and my team played 17 regular season games, plus a couple in the post-season. The season started with a number of blowouts each way in our games. By mid-season, however, the swiss really game into its own. Nearly all of our games after midway could easily have gone either way, with many coming down to the final minutes.
Likewise, when we went into the playoffs, the swiss was divided into sections based on our regular season results. DiscGrace was seeded last (16th) in Swiss Chocolate, the 4th group, and we played against the top seed. We were expected to lose, and we did, but it was still a damn close game (9-10 as I recall).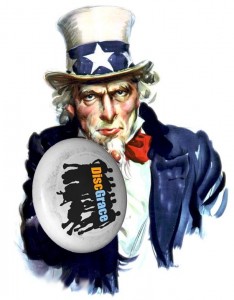 This is why I play… to have fun, competitive game, not to win. I think that's true of the vast majority of those of us in the swiss system, and I wanted to publicly say how great I thought it was and say thank you to MUFA for implementing it.
So, three cheers for MUFA, and the swiss! Thank you!
You all do a great job, supporting what is now a vast number of people in the league. It's an all-volunteer organization and probably mostly thankless (I'm sure they hear many more complaints than thanks).
I suspect (but don't know as I've not spoken to him about it in years) that Matt Merrill**, the current MUFA vice president, is the brainchild and architect of the MUFA swiss implementation. Kudos to you, especially, Matt!
* – I actually argued for implementing a swiss years ago, but this was long before smartphones and ubiquitous internet… and the swiss depends upon quick reporting of game results, so it wasn't as practical then.
** – Fun fact… I knew Matt waaay back in the late 80′s when we were both avid tournament chess players. I am/was a relative patzer, though, while Matt actually achieved expert rating. The reason I was even familiar with the swiss system was because this is how nearly all chess tournaments work. If you have a weekend to play, typically 5 games, it's the best way to come up with a clear winner with a field of 100 or so players.
As part of the swiss, MUFA also implemented a "performance rating", which from appearances appears to be an implementation of the Elo system, the method used by the USCF (in the US) and FIDE (internationally) to rate chess players. Last fun fact… Arpad Elo invented this system. He was born in Austria, but moved to Wisconsin when he was 10, and won the Wisconsin state championship eight times.
---
Posted on August 12th, 2013 by John Stewart

I have a new app in the iOS App Store named Jot.
It's dead-simple. When you start it, it immediately brings up a new mail with the To: and Subject: fields pre-populated, so you can immediately email yourself (or whomever you choose).
This was something I developed for myself since this is a task I do all the time, when I need to tell Future John to do something. This video demonstrates how much time Jot can save if this is something that you do frequently:
It's free and available now in the App Store.

---
Posted on July 30th, 2013 by John Stewart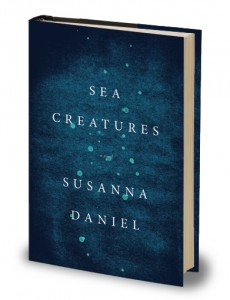 Today is the big day for my wife's second novel, Sea Creatures!
After the release of her first novel, it went on to win a really prestigious award and received universal praise.
Her new novel is already getting good press, and I'm not supposed to say this, but I think it is an even better book than her first.
Susanna is an amazing woman, writer, mother, and wife. I couldn't be more proud.
---
Posted on July 25th, 2013 by John Stewart

I have a new app in the Apple iOS App Store called UltiScore.
It's an ultimate frisbee scoreboard app for both iPhone and iPad, and has a couple of neat features.
I designed it for myself, a captain of a team in the Madison Ultimate Frisbee Association, MUFA. You can quickly set team names, and game and cap time. It shows a countdown timer to the cap time, and plays an annoying sound when it occurs (and repeats until you tap OK).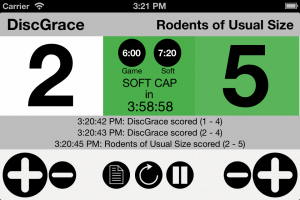 As for choosing cap time, you can select one of the MUFA-standard cap times, or select your own custom time. Furthermore, the app will auto-detect your current location when you start a game, and based on that, calculates the local sunset time. It presents sunset time as another option for the cap:

When a point is scored, that team's score is highlighted in green. Over two minutes, it slowly fades back to white, so you know at a glance which team has scored in the last two minutes (often helpful if you don't know if the score was recorded).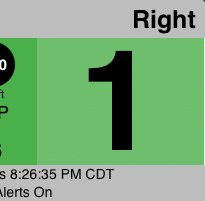 Just below the score is a scrollview where you can scroll through the complete game log to see the history. To see it full-screen, you just hit the log button to see the complete game history. Once the game is over, just hit the share button in this window to email yourself a copy of the log.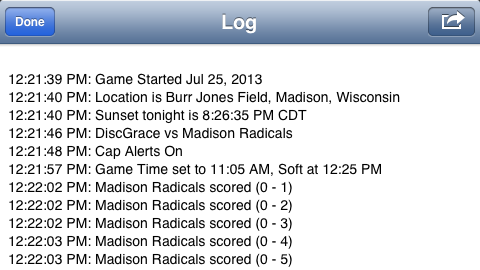 UltiScore is now in the App Store and is a free download. I hope other Madison ultimate players find it useful.
---
Posted on December 10th, 2012 by John Stewart
After putting the kiddo to bed, I sat down in front of the TV to watch the Packers play the Lions on Sunday night. I had DVRed the game, and was 20-30 minutes behind live TV. As I watched the Lions march down the field, I wondered about the remaining schedule for Green Bay. So I whipped out my phone and asked Siri to "show me the remaining Packers schedule".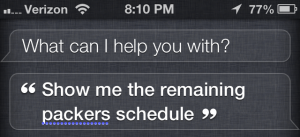 Great; she understood me completely.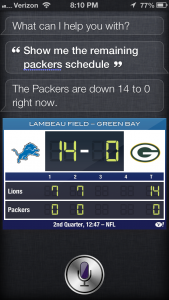 Argh! Why why WHY Siri are you telling me the score when that is clearly NOT what I asked!?
Fortunately, of course, the Packers managed to overcome the Lions, but still, I wish I'd seen the first quarter domination by Detroit unfold in real time, rather than have Siri spoil it for me through a half-baked answer.
---
Posted on October 11th, 2012 by John Stewart
There was once a time in my life where I would be surprised to find that it's a pair of dirty socks preventing this window from closing completely.
That was a long time ago.
---
Posted on September 4th, 2012 by John Stewart
---
Posted on May 15th, 2012 by John Stewart
Sleep Eater
Apologies to Gary Wright.
I couldn't get this idea out of my head.
To the tune of Dream Weaver.
I've just closed my eyes again.
Climbed aboard the Sleep Eater train.
Eater take away my restfulness of today
And leave no sorrow behind.
Oooooo.. Sleep Eater,
I believe you will eat my sleep tonight.
Ooo Sleep Eater,
I don't believe that I'll see the morning light.
Eat all by my sorry sighs
Or maybe I'll just go in-saa-aaane!
I know sleep is just a fantasy
help me to forget tonight's pain
Oooooo.. Sleep Eater,
I believe you will eat my sleep tonight.
Ooo Sleep Eater,
I don't believe that I'll see the morning light.
Though the dawn may be coming soon,
There still may be some time.
Fly me away god I need some sleep soon,
And let me see some dayy-liiiiight.
Oooooo.. Sleep Eater,
I believe you will eat my sleep tonight.
Ooo Sleep Eater,
I don't believe that I'll see the morning light.
Sleeeep EEEATER
You'll eat my sleep tonight
Sleeeeeeep Eaaaater
Eat my sleep tonight
My sleep tonight
---