Music
---
Posted on June 20th, 2007 by John Stewart
Bonnaroo. The word elicits in me both terror and delight.
There is no place like it in the world. Think about the freakiest part of the freakiest city you know. Now go freakier. It's an amazing amalgam of 80,000 dirty stinking hippies, dozens and dozens of great bands, lots of illicit drugs, and a strong dollop of Tennessee June heat and copious amounts of choking dust or mucky smelly mud, depending on the year.
This year was my third. I'm a glutton for punishment.
A buddy of mine and I drove down together (his second 'Roo) and hooked up with some of his brothers-in-law and assorted friends, seven cars in total. It was a superb group of folks to hang out with and get funky.
We scored a most excellent campsite (for those who were there, right by pod 3 and not far from 3rd Avenue and 3rd Street). We could hear both of the big stages very well from the campsite, which was helpful for pacing myself (a key to survival in the Tennessee sun).
Music I checked out (in addition to dozens of other tents I wandered into and out of at random, one of the awesome things about 'Roo):
Xavier Rudd
Very pleasantly surprised. I've never seen him before, and this dude can play. It was mostly just him, sometimes with a drummer, playing guitar, didgeridoo, and harmonica, amongst others. Definitely a great show.
Ween
These guys simply rock. Dean Ween on guitar engages in musical masturbation on stage (and I mean that in the best way possible). Gene is a great showman. They were tight, and they rocked the house. It was at my first Bonnaroo in 2005 that I first saw these guys playing a midnight show, and it made me into an instant Ween fan. This show didn't disappoint… except that it was during the afternoon, and I had to leave early to make sure to acquire an excellent vantage point for the next band I would see that night…
The Police
I love these guys. I think they are hugely influential and made some of the best music ever, mixing up styles and genres masterfully. It was these guys headlining at Bonnaroo this year that made me definitely want to go. Too bad they fucking sucked.
Stewart Copeland was great on drums, coming out with an infectious energy. Andy Summers was more than adequate. Sting, however, was a total wanker. In the 30-45 minutes before I left the show, he was completely forgetting lyrics, missing cues, and generally fucking up. They also had an annoying habit of extending the song with the same melody droning on and on. Jamming is great when someone is changing a familiar riff into a series of jazzy interpretations. It is pathetic when you simply play the same notes over and over again.
Also annoying was when Sting tried to get the crowd to all clap in unison. There were eighty thousand people there. The main stage is massive. A little googling on the speed of sound will tell you this shit just won't work in that venue. Go back to your VH1 easy listening crap and get off the stage.
If this had been their first show since breaking up, that would have been one thing. This looks to have been the 11th date on their tour. No excuses for this. These guys may have been an incredible live act in 1979. Thirty years later they are not. Save your money if you're planning on shelling out $200 for tickets.
(I probably wouldn't follow that advice, myself. I would have to take the opportunity to see them.)
Fortunately, I was able to hear them very well from the campsite (and actually, they weren't bad from there), where I spent a couple of hours resting up for the midnight shows.
The Flaming Lips
Another band I knew bupkus about until I walked into their show. They're known for one catchy hit in 1993, She Don't Use Jelly, and that's all I knew of them.
Musically, the show was not always very accessible and sometimes droned on too long. However, they put on an incredible show to go along with the music. Their stage includes a UFO into which the band ascended to end the show. The show also apparently started (I missed it) with the lead singer being passed around the crowd in a giant gerbil ball. They also passed out thousands of laser pointers and later had the crowd light up a giant balloon with them, which was pretty freaking cool. I'll definitely check these guys out again if I can.
Wilco
Just fucking great musicians. They showed how a band can play a big venue well (unlike The Police). They simply got up and played their asses of, competently. Just really a very good performance.
The White Stripes
A very popular show on the last night, on the second largest stage. The place was packed, and they played a good show. Meg White is an adequate drummer… perfectly appropriate for the sparse, simple, rock they play. Jack White is a great guitar player. No one was up there but those two, and they did a great job making enough noise.
Photos / Video
As for media I gathered, here is a very small slice of some of the Bonnaroo scene. Unfortunately, I ventured out armed with the camera only during the day and only for short jaunts, so the pure wonderful weirdness and orgy of music is hardly captured herein.
The
photo album
of my snapshots is here:
This is a hastily-edited cut of some shots on the way there, the campsite, and inside: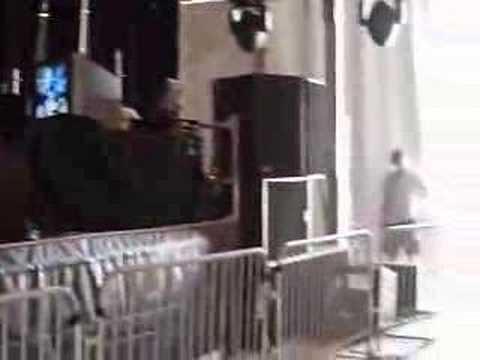 And this is a clip of a grifter running the shell game. I'm pretty sure I saw this same guy back in 2005 as well. Notice the earpiece he's wearing; I'm sure he had lookouts around keeping an eye out for the man.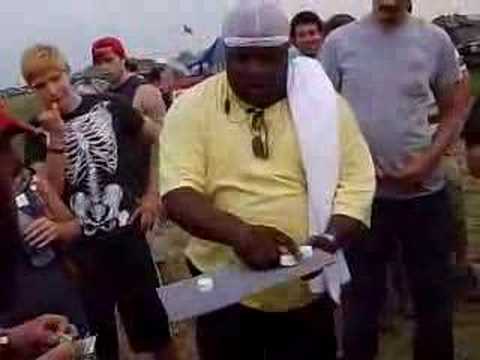 Hey, if you're one of the folks I met down there, send me an email (and/or leave a comment!)
---
Posted on May 23rd, 2007 by John Stewart
Suz and I have been occasional American Idol fans. We watched most of the first season, but we've been fairly indifferent since then. The horrible singers in the beginning stages are really the best part, IMHO.
For whatever reason, we started watching it more this year. I gotta say, I love Blake. After the performance on Bon Jovi night of You Give Love a Bad Name, I have to give him huge props. Definitely the most original Idol arrangement I've ever seen, and he did it when he needed to to stand out from the other five left at the time. He really knocked it out of the park (make sure to check the last clip in this post, too, for this final beatbox performance):
The only other performance that night that was close was from LaKisha, singing Ain't a Love Song. Damn amazing… she's a great singer, but just not as consistently good as some of the other performers this year. This night, however, even Simon was convinced:
Of course, Melinda was the consummate professional throughout the entire competition. She never turned in a performance that wasn't either the best of the night, or damn close. It was a real upset when she was knocked out with three people left. I expect a lot of people thought she was safe, so didn't vote for her that night. It would have been nice to see her in the final, and based on her performances throughout the season, she deserved to win.
This last clip is from the final show of the season… it's Blake Lewis with Doug E. Fresh, doing their beatbox thing. While I've enjoyed the competitions, I've never seen an Idol contestant who has been interesting enough to make me interested in actually buying an album. I look forward to what we see from him in the future. This is a great performance:
---
Posted on December 13th, 2006 by John Stewart
DJ RIko (mentioned expectantly in my previous post) has just released his 2006 Christmas mix. I'm downloading this now, so I can't comment on the quality, but past years' versions have always been excellent!
Here is his Mixmas page.
This is the direct link to a torrent which has the entire thing as a 320kbps mp3 with album art.
From his description:
This year's edition includes a special treat — an exclusive new track by Amillionsons. Their "Super Sharp Santa" is the best drum-and-bass Christmas song you'll ever hear and also features what just might be the best use of sleigh bells ever. It's a song that sounds better and better with each listen.
---
Posted on December 8th, 2006 by John Stewart
Sick of every damn holiday song, yet you still want some merry music? Here's your solution.
It's damn good, and I guarantee you've never heard 'em before.
djBC of Beastles fame has gathered a collection of mixups and mashups from all around the world for Santastic II (why do I want to say Electric Boogaloo after that?).
The headliner, in my mind, is Sarah Silverman's Give da Jew Girl Toys (Dirty) mashed up with Da Da Da Da by A plus D:


I hate to say it Santa,
but you're acting like a dick.
You should give presents
to everyone that's good
and not just to your personal clique.
You bring me a toy
to open Christmas morning,
I'll let you be my boyfriend
all dirty fat and horny.
oh yeah
oh yeah
What does Jesus have to do with you?
You've got as much to do with Jesus
as you do with Scooby-Doo.
What do you have to do with Jesus?
You have as much to do with him
as you do your mother's penis.
oh yeah
So I don't think he's the son of god.
I think he still was a nice boy.
If you ask yourself what would Jesus do,
he would say "Give da jew girl toys."
Give da jew girl toys.

The webpage for Santastic II is here. You can download individual mp3s there. However, do yourself a favor and just grab the whole thing as a bittorrent.
DJ Riko also does a yearly Christmas mix that also is worth checking out. However, I don't yet see a 2006 version on his Merry Mixmas page. 2002 through 2005 are all there, though. They're each a single long playing mp3.
Edit: I do see DJ Riko's Mixmas 2006 is due Real Soon Now.
---
Posted on April 2nd, 2006 by John Stewart
In August of 2004, two friends and I trekked from Madison, WI to Coventry, VT for the final Phish concerts.
Along with hordes of dirty hippies came a deluge of rain. We managed to get in early, but this was a mixed blessing because we'd be among the last to be able to leave.
As soon as the last show ended, all the roads immediately became clogged with traffic. We could do nothing but wait.
Well, if cars couldn't get out, that meant the shit trucks couldn't get in…
…and that meant a lot of really fucking sick porta-potties.
August heat.
A hundred thousand hippies.
A few dozen shitters.
I have said since then I would present the gross to the world, and now I finally present it to you. Based on the code used on "amiageekornot.com", you can now rate the relative sickness of each picture.
I still need to hack together a page showing the top (bottom?) ratings, but click below to see what I've got.
Not wise to view right before a meal, I think. The world can finally know which was the grossest shitter that day… click the link below to find out!
---